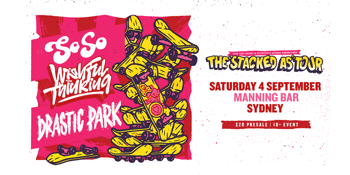 Yeah That Agency & Offensively Average Productions
The 'Stacked As' Tour ft. SoSo, Drastic Park & Wishful Thinking
Manning Bar (University of Sydney, NSW)
Saturday, 4 September 2021 6:30 pm
Yeah That Agency and Offensively Average Productions are proud to present the "Stacked As" Tour. This triple headliner tour is stacked (as) to the rafters with three of Australia's most promising pop-punk & punk rock outfits; Drastic Park, SoSo and Wishful Thinking. The tour has each of the 'Stacked As' bands headlining their home state, with each band stoked to be touring in celebration of a new release. Joining them along the way will be a slew of local legends as opening acts, resulting in some of the most stacked line-ups on offer to Aussie punters in recent memory. All for $20+BF presale.
A once in a lifetime opportunity to catch the most 'Stacked As' tour in Aussie history - all for the cost of a couple of overpriced mid-strength beers at a Test match? Marvellous.
The "Stacked As" tour is the result of the combination of two separate tours that were on the cards for Drastic & SoSo and the reunited Wishful Thinking. Snap COVID lockdowns resulted in rescheduled dates and in the end, it made complete sense for all bands to unite and stack these shows together.
Drastic Park were born out of a love of the late 90s/early 20s punk rock/pop punk sound. Stumbling across a sound that mixes open octave lead guitar with thundering bass chords, they have been able to fashion a sound that is immediately identifiable as the "Drastic Park Sound"
When COVID slowed the music industry to a halt Drastic Park chose not to slow down, having just signed on new drummer Joe Larwood and immediately followed up with a second EP entitled "Imposter Syndrome", a DIY album that was recorded, mixed and mastered during lockdown. The EP, which premiered on Wall of Sound and was praised by Hysteria Mag & Blunt Mag, featured two hit singles "Feels Like Forever" and "Work of Art '' that were premiered on Short.Fast.Loud. Since COVID ended, Drastic Park have played a number of sold out - shows, supported Epitaph signed DREGG, sold out two vinyl runs and have also gone on a co-headline tour with punk/emo up-and-comers Clay J Gladstone (NSW) and Wolf & Chain (SA)
Self-proclaimed 'offensively average' pop punks, SoSo, burst onto the scene in March 2020 and haven't looked back. SoSo have gone on to release a string of standout singles which have been widely embraced across triple j, triple j Unearthed, Spotify, & Apple Music.
In support of the release of their recent single 'Yeah Nah', the band embarked on their debut headlining tour, selling out every show - sometimes weeks in advance. SoSo also teamed up with Australian comedian Frenchy, who features in their cinematic spoof 'Yeah Nah' music video.