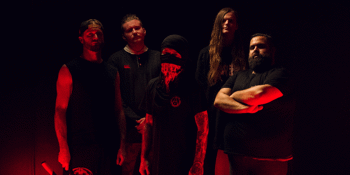 Destroy All Lines
TO THE GRAVE
Earth Caller
Manning Bar (University of Sydney, NSW)
Friday, 4 February 2022 7:00 PM
EVENT RESCHEDULED
Old dates: Thursday, 28th October 2021
New date: Friday, 4th February 2022
Due to the extended NSW Lockdown, Destroy All Lines and To The Grave wishes to advise that the upcoming Epilogue tour with guests Earth Caller scheduled on Saturday 7 August and Sunday 8th August at the Factory Floor, Sydney has been combined into one show as below.
All existing tickets will remain valid for rescheduled dates with no action required.
"We thank you for your continued support and we can't wait to play these shows for you" - To The Grave.
---
Deathcore flagbearers TO THE GRAVE have been fixated on dominance since their inception with no sign of slowing down. After their 2019 record Global Warning elevated them to global awareness, the tragic loss of a band member brought the train to a sudden, screeching halt.
Re-emerging in 2021 with their follow-up record EPILOGUE, TTG are set back on a warpath across the world. Aiming to continue bulldozing audiences with a visceral live experience and a raw, confronting message that demands your attention.
First stop: Australia.